AYE, AYE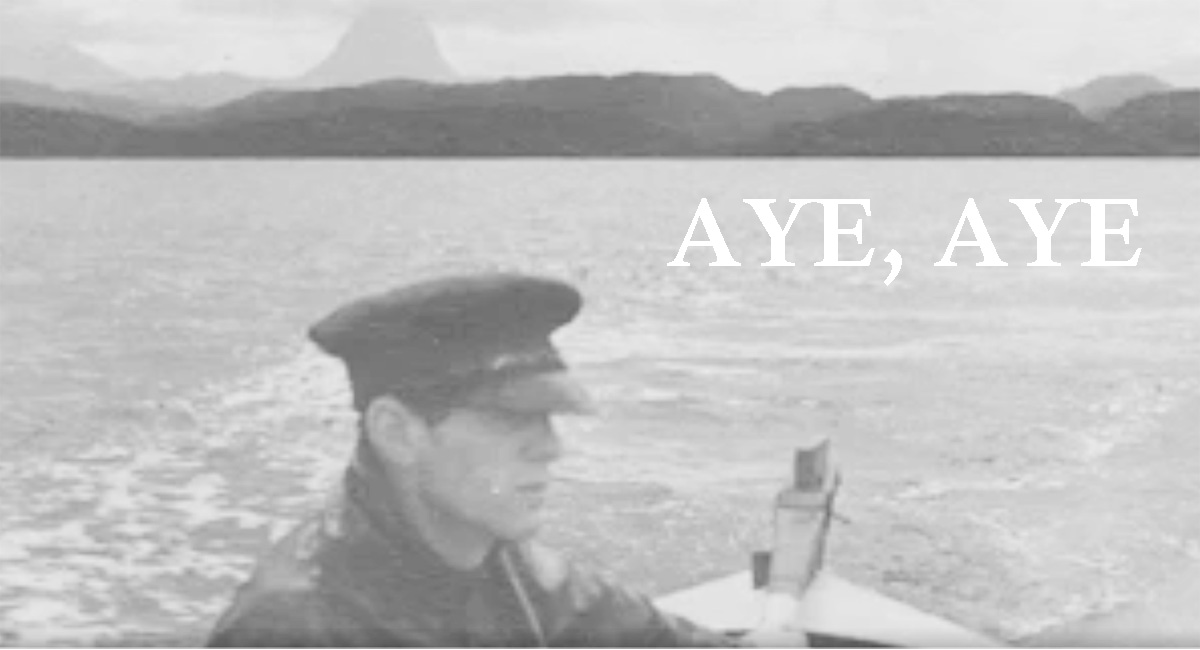 The Home of Irresistible Art, The Wee Hub, Ocean Terminal, EH6 6JJ from 20th April, 2023.
The theme is both to do with the saying "aye,aye" which is used on sea and in space and as its soundalike "eye,eye". I created a set of eyes from upcycled plywood, painted with acrylic and enhanced with found plastic.
On the sea theme: I was brought up in the fishing village of Lochinver, NW Sutherland. My great grandfather Donald Sutherland (Old King) from Golspie was working on the hospital steamship Valhalla during WW1 and then afterwards moved to Lochinver to look after yachts. He bought a fishing boat called Bonnie Haven and was one of the founders of the Lochinver Fish Selling Company. My grandfather Duncan (photo above) had a fishing boat called Cutty Sark, then one named after my mother Joan and her sister Marlene: M&JD Sutherland. He and his brother Murdo bought a new boat they named Valhalla. Also at that time the Golden Grain was fishing out of Lochinver and one of the crew gave Joan and Marlene a fiddle each. My mother ended up becoming a fiddle player. I illustrated her book of fiddle tunes : The Golden Grain.
On my father's side my grandfather Willie from Whalsay was a sailor whom travelled the world, and later bought the Valkyrie; an old fishing boat that he used as a cargo boat. During WW2 he was part of the Shetland Bus. My grandmother Barbara was a herring gutter. as was my Aunt Agnes. My father was working in the Stephens of Linthouse Shipyard in Glasgow and eventually after an engineering job in Africa moved to Lochinver and became a fisherman. His first boat was the Venturer, then he bought a new boat called Kalahari. My father also set up a factory where the whole family made creels.
From an early age my brother Duncan and I went to sea, in a small rowing boat, doing creels. Later Duncan went to Aberdeen and became a shipwright loftsman at Hall Russell Shipyard, returned to Lochinver and built the steel boat The Tarragh, which I worked on with him for several years. My sister Brellin went to sea with her then husband Maurice for several years on The Gratitude. Maurice previously had a boat called Enterprise.
Recently Duncan built the rowing boat Sleipnir and he attempted to row from New York to Lochinver, only having to give up just off the UK coast due to navigation equipment breaking down.
Welding and making creels helped to develop my interest in sculpture and also being near the sea I've always tried to recycle flotsam where possible.My fishing experience helped to make feature thriller Graders, YA novella Storm Hags and children's picturebook Dinghy.
The space theme is inspired by A Tail Tall Tale, a children's story about a sea cat that I'm working on.
Cathy Bell has added some works to complement the sea theme Cathy said, "My grandfather Tom Roberts was a sailor in the merchant navy in the early twentieth century. He had ran away to sea when he was a boy, I learned all about this from my mum who told me that Tom had drowned in Hull harbour when she was just a girl and she would search for him not believing he was gone, this was during the inter-war years. This led me to write a short story called Hydrotherapy which was published in BULB Magazine. The two paintings, The Woman with Long Arms 1&2 were painted quite a few years ago and,to be honest, I don't know where this idea came from? There are symbols in the paintings such as the table with crystal ball, the fire and, of course, the sailing vessels. Again, I honestly don't know what they mean, however, that doesn't matter. The other painting is of a deep sea creature, perhaps there is something about the tale of my grandfather that is in all three of the paintings."
If there are any originals that you are interested in purchasing here is the Price List. For all other artwork you can reach me through my website contact form.
Goodbye Old Ship Of Mine
Prints
Prints, cards,posters and other merchandise in my REDBUBBLE SHOP.
All images © David Hutchison